How exciting - you've decided to create your dream lifestyle in a motorhome or caravan! Now it's time to figure out which one to buy, where from and when is the best time. As New Zealand's motorhome and caravan experts, we've collated our knowledge to create this page that will help you make the right decision.
We cover everything you need to know about buying a motorhome or caravan - from whether you should buy via a private sale, private import or a licensed dealer, and what questions should you be asking the seller (and yourself). If you're trying to decide whether to buy new or pre-owned, we provide benefits of both, plus tips on common mistakes to avoid, and answers to the all-important finance question. We even have advice on floorplans and specifications, and how to identify your non-negotiables - the essential first step in your research.

To make it easy to find exactly what you're looking for, click on the below links to find out more about.
If you have any other questions as part of your buying journey, we would be only to happy to answer them for you. Please get in touch anytime.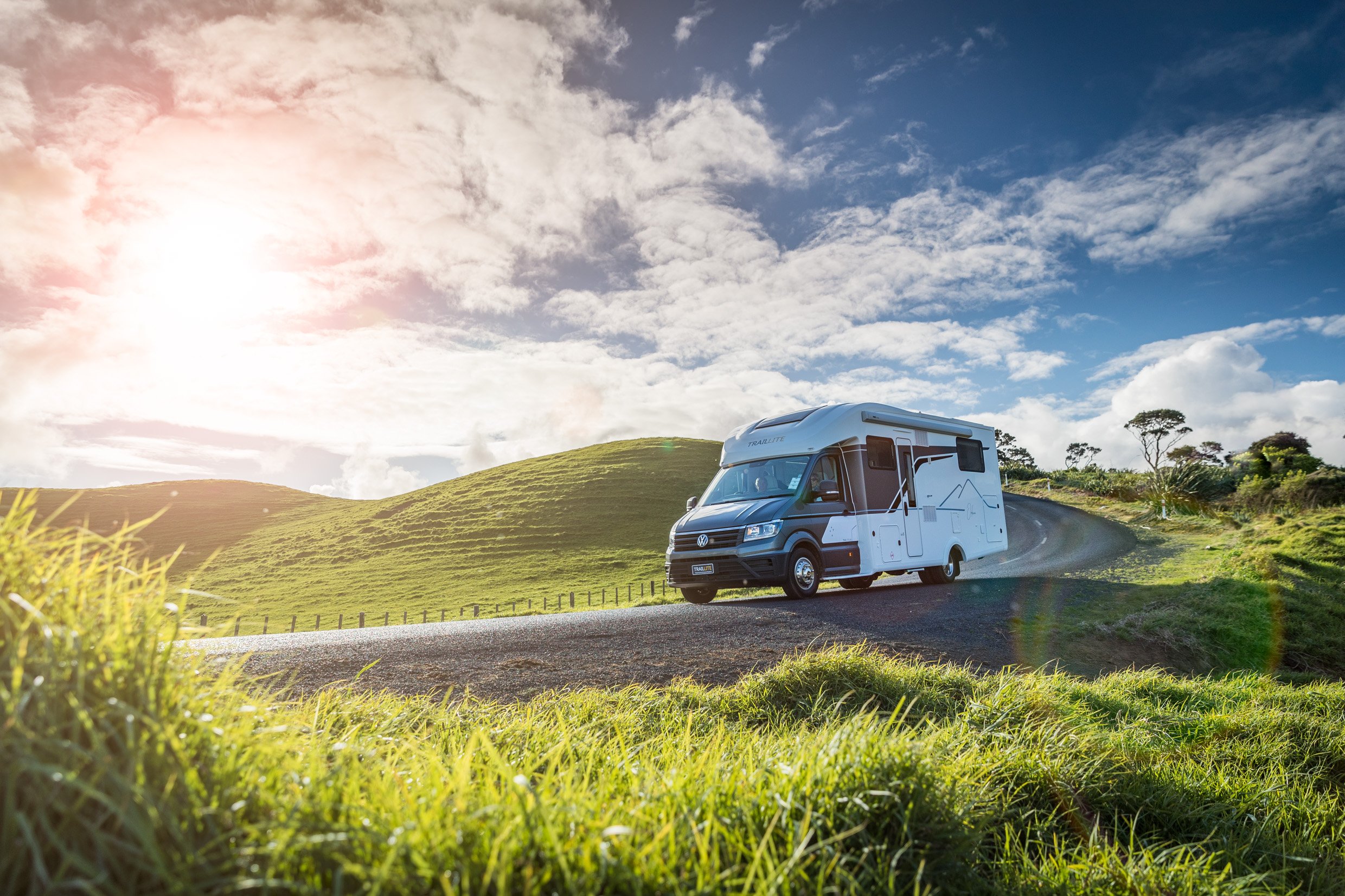 ---
10 Steps you should take when purchasing a motorhome
We understand how it can be easy to think you're saving money by buying a cheaper motorhome, only to find you have made an expensive mistake that's far from ideally suited to your needs later down the track. This is why it's so important to do step one, your research!

Purchasing a motorhome is a big investment and a significant commitment so we understand how important it is to make the right decision.
Our blog post detailing these steps will provide you with more information around:
Doing your research
Speaking to the experts
Talking with other 'motorhomers'
Learning about the company/dealer you're buying from
We understand that everyone's idea of a dream lifestyle is different so everyone's journey will be too! You may find you come across different steps during your journey but with any luck these will help to give you a better understanding of what motorhome will work for you!
---
When is the best time to buy a motorhome or caravan?
A lot of people ask us this question. However, the question really should be "when am I most ready to buy a motorhome or caravan?"
Are you looking to get something in a hurry for the upcoming summer, or is it more about getting it right? Another question to ask yourself is, if you were to look back to today in twelve months' time, would you be happy with the decision you made, or would you be wishing you took a bit more time to do your research?
Timeline may be important to you and a key non-negotiable, however, it's about weighing that up against other factors. You don't know what you don't know, and until a subject gets broached, you may not have realised that particular subject could have so much bearing on choosing the right caravan or motorhome.
Once you have completed a thorough consultation, you'll come to a logical conclusion of what your non-negotiables are, and feel more "ready to buy".
Read more of our top tips or book a consultation to speak to one of our team
Looking for a great family holiday option?
Family holidays in a caravan could be for you
Caravanning is a great way to see the best New Zealand has to offer. Head away with the family to give your children access to some of the best outdoor playgrounds a kid could ask for; nature, forests, beaches, we have it all!. Get back to the days where you climbed trees, danced around campfires and swum till sunset! That's what childhood memories are made of!
A caravan could be your answer to family holidays that everyone will love. But how do you make sure you get one that will maximize everyone enjoyment and not leave you all bickering over who sleeps where. We've puled together a few ideas on how life on the road could look for you and your family. Once you are committed you should start considering what floor plan, specification, features and after-sales support is going to work for you and your family.
Read more about what we've found works well for our families, allowing them to enjoy holidays in their TrailLite purchased caravan.
---
Getting the right motorhome or caravan diagnosis
Would you self diagnose using "Dr Google"?
The same analogy can be drawn when googling what motorhome or caravan is going to best suit your needs. You can spend week upon week trawling the internet, reading reviews, looking at the possibilities. Don't get us wrong that is a great place to start, but if you are serious about getting your affliction sorted, would it not be wise to seek out a specialist for their advice?
When you invest in an expensive asset, it is time well spent taking the time to visit and talk with a specialist, (just like you would before undergoing any major medical operation). Or even before buying a house when a whole suite of specialists help you along the way (lawyers, accountants, building inspectors).
It is amazing how many times we hear a client wanting to get out of what they first bought, and when you drill down into the approach they took to their initial purchase, a lot of it was based on assumption rather than well researched fact.
New or pre-owned
What are the benefits of each?
Many people are often set on the decision to go new or used above anything else. They will compromise on everything else because of a set of beliefs about what 'going new' means without truly understanding the benefits of both.
When it comes to making a purchasing decision, a vital step we see that is often missed, is getting clear on the non-negotiable's.
Unfortunately, you don't know what you don't know , so many new to motorhoming and caravanning end up learning by trial and error - an expensive exercise that can be so easily avoided. Don't rule out a new or pre-owned motorhome or caravan without first getting clear on all of your requirements.
The benefits of buying new
The benefits of buying pre-owned
Common mistakes to avoid
Why TrailLite?
Motorhome and caravan experts
At TrailLite we pride ourselves on being the knowledgeable experts in all things motorhomes and caravans. Part of that expertise has come from over 65 years of connecting our customers with their dream lifestyles.
We believe it's important to resource our potential customers with information ensuring they make a wise decision every time. We love empowering people to make the right decision for their needs.
If you've decided that purchasing a motorhome or caravan is right for you and you're ready to take the plunge into buying and visiting supplier branches then consider this, why TrailLite? You can also explore the option of purchasing a TrailLite built motorhome. Download our guide to learn more about our build process and lead times.
---